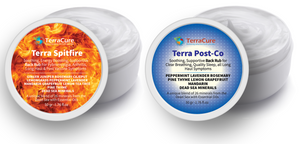 A Godsend for my husband
My husband suffers from autoimmune diseases. He had Covid and his oxygen level was very low. TerraCure creams were recommended for his breathing difficulties, in the hope he wouldn't need to be hospitalized. We received the creams by express delivery. We used both Post-Co and Spitfire on his back and chest and we saw a significant improvement within hours.
As a result we recommended the creams to our family (especially our parents) who all came down with the virus during that wave. The products are very effective and the service is from the whole heart. The TerraCure people didn't want to accept payment for helping us with actively sick people. The owner said he didn't want to make money from these situations. We made it up to them afterwards by buying creams for back and knee pain.