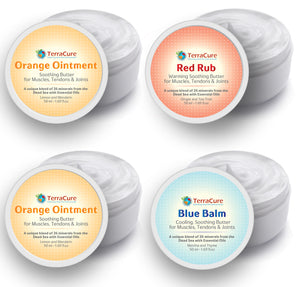 The best
I injured my knee during a sports activity, luckily I had the ointments from Terracure that helped me within a few hours and the pain went away almost completely
Awesome! Thanks for taking the time to write a review!
Great for in between visits to the chiropractor
I have had lower back pain for a number of years and see a chiropractor fairly regularly. In between visits the pain is still there just gets a little better or worse. The red cream has been helping to keep the pain level lower.
Thanks for your fast feedback! I think that if you use the Orange and the Blue you will find that they should also be very helpful. The Orange is very relaxing and increases circulation and the Blue stops muscle spasms immediately and helps with the pain (thanks in part to the Lavender and Peppermint). Keep us posted!
Love them
Bought my second order and they work great it does take some time but you definitely can feel the difference after using it for some time
Thanks so much for your review. The creams really are treatment creams and you don't always see the difference right away as there is no anesthetizing drug.. But when you use them, every day the improvement has to happen. Stay well!
Good Stuff
I use these daily on my knees & back - very good product
All Natural Chronic Herniated Disc and Joint Pain Solution - Jumbo Pack