TerraCure Skin Collection
TerraCure creams all contain a high concentration of Dead Sea minerals and powerful essential oils. As such, the creams in this collection are effective for various skin issues such as athlete's foot, jock itch, psoriasis, eczema, seborrhea etc. Find the cream that is right for your skin issue in the TerraCure Skin Collection.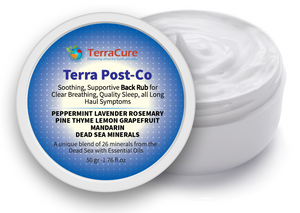 Terra Post-Co
For people who had Covid-19 or any one of the various shots. For long-haul symptoms or post-injection symptoms, ranging from migraines, autoimmune diseases, neurological symptoms, pains, varicose veins. Rich in Dead Sea minerals like Magnesium, Calcium and Zinc and Essential Oils. Enhances circulation.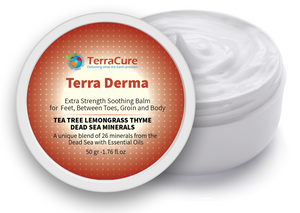 Terra Derma
Highly anti-inflammatory, anti-fungal natural cream for use on the feet, groin and other areas. Made from Dead Sea minerals and essential oils like Tea Tree, Lemongrass, Thyme, Pine, Rosemary, Cajeput, Ginger, Juniper Berry. Good for Psoriasis, Eczema, Seborrhea, athlete's foot, candida and all skin issues.