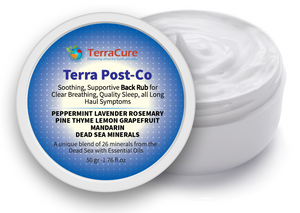 Glad I had this
A few months ago I placed an order with TerraCure and was offered a free jar of Postco as a bonus. At the time I didn't need the Postco but thought it a good idea to have on hand "just in case".
Unfortunately, I recently came down with covid and needed to use the Postco. I rubbed the cream on my neck and chest to help with nasal congestion and a bad cough. The Postco worked very well and I started decongesting soon after I used it. (Also helped to test my sense of smell).
Additionally, I used Postco on my back and it helped ease some of the stiffness and body aches. The cough has lingered so I ordered more Postco as well as Spitfire in the hopes of finally get rid of all my symptoms.
Thank you Dena for a line of healthy, natural products that do a great job without drugs and scary side effects.
Thanks so much for the feedback!
Everything you wrote is right. It's good you ordered the Spitfire as it's great for congestion. We know a family who had Covid and they all had low oxgygen levels. They passed the Terra Post-Co around the family as it raised everyone's oxygen levels!
Both these products are great for improving quality of life when used even ONCE a week on the entire back. They are also great for back and joint pain but are most cost efficient when used on the entire back.