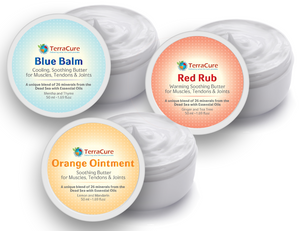 Amazing
All three creams together work wonders. I am supposed to have knee surgery and now after using the creams the pain is mostly gone and I have started jogging again!!
Hi Teresa and thanks so much for taking the time to write the review. We are so thrilled that you have seen such great success. Totally thrilled. And thanks for referring your friend to us. Good luck with the jogging and please do not overdo it!!
Dena
Amazing success each time used!
I have used the creams for a number of problems.
1. Trigger finger, sensation in arm and hand went. Only comes back on Shabbos, when I can't use the cream on Erev Shabbos, so proof that it works.
2. Relief of chest discomfort. Checked with doctor to make sure no problem, he said it could be dust or an allergy. Used Terracure cream and the tightness clears up overnight.
3. Aches in legs and back. Seems to magically disappear when I use the creams!
Highly recommend for all types of discomfort. Kol Hakavod to the Gottlieb's for producing these amazing creams for pain relief. am never without at least one of the creams in my 'medical' basket!
Have not received product yet😞
I am so happy to hear that the package finally arrived. Covid-19 is affecting the USPS delivery times badly. Looking forward to your review once you've used the creams for at least 3 weeks! Be well!
Great for knee pain
I recently opened my package that I received and noticed that you sent me a free blue cream
Thnks so much for it . I really appreciate it. I ordered your creams for pain that I was experiencing in my knee. Im a fitness instructor and I tend to get aches and pains from time to time. So far these creams have really been helpful. Thanks for a great product.
F.M.
I bought the cream for herniated disc, the make the pain bearable, very satisifited