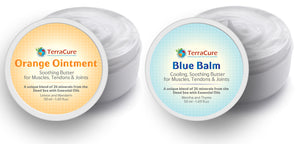 Warm and Grateful Recomendation!!
Hi Dena! I wanted to thank you so much for your Terr Cure that you told me about. My Mom is using it for about 2 weeks and said she definitely sleeps better and with much less pain in her shoulder. She isn't taking another medication other that what she has been for a few months after she bruised her shoulder, so it must be this!!
THanks so much - I definitely recommend it!!!
Success with TerraCure
Success with TerraCure
I've been using TerraCure for over 20 days and there have been definite improvements in aches and pains. Nothing is gone completely but they have definitely improved. Knees (3 knee total replacements) and lower back issues have shown great improvement. One unexpected success was my trigger finger THUMBS (both.....if that's the name for thumbs), I rubbed the BLUE in and around the base of thumbs and forgot about it. Several hours later I realized the ache and sharp pains if I held something were MUCH less than earlier. Trust me, this is now part of my morning and night routines!