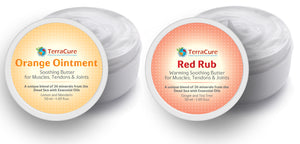 Miracle cream
My wife had a tremendous knee pain. Can not sleep well at night. After applying this Miracle cream three times a day, she can sleep through the night. Thank you.
Thank you so much for taking the time to come back and leave a review. We are totally thrilled that the creams have helped your wife!!! Just keep going and remember - you need only a drop each time. All the best!
Good Product
Helps with knee and lower back pain, good product
Hi Howard. Thanks for the five star review. So happy that the creams are doing the job for you. You can also use them on your chest for respiratory issues (or to prevent them). Wishing you health!!
great for my back and leg pain
I love these creams. When I started getting pains in my legs and lower back, I was worried that I'd have to live with pain all my life or be on pain medication. When I use these creams, I don't have pain! Thank you TerraCure!
Yay! Thanks so much for taking the time to give our creams an awesome review. We are sp pleased the creams are helping!
Terra cure
Stilll not happy with the product it did melt and was very runny upon arrival, maybe this is why it wasn't very good for my symptoms
Hi 'Duck'.
Thanks for the feedback.
We're pleased that you are using the free set of creams you won in our monthly raffle.
Sorry about the 'melting'. The oil sometimes separates from the cream when exposed to very high(summer) temperatures during shipping. This does not affect the effectiveness of the cream. All you need to do is mix it up with a plastic spoon and stick it in the fridge for two hours. The creams are still concentrated and powerful even if they get a bit runny! The way to use them is to be very consitent. Use just a drop each time (once or twice a day) and massage in very well, till completely absorbed. Do this for a few weeks you should see improvement!
Must Have Creams for Pain
I have used many products for my bad back and Fibromyalgia pain. Some were better than others, but when I started using Terra products that was it for me! I layer them if my pain is severe. I brought them on a retreat and shared them with other participants. They were amazed when their pain subsided.
Not only have these creams helped me deal with chronic pain, the care and concern of this small company is unparalleled! They actually sent me an extra set of creams and told me to pay when I can! That was shocking to me!
Great for back, knees, legs, neck and so much more!
Thanks for the awesome review. I only just learned that I can actually publish an answer LOL. We love helping people feel better and the feedback makes it all worthwhile!
Dena