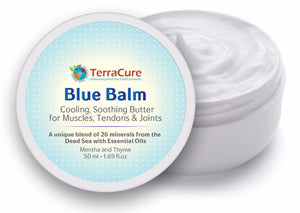 I really like the cool feeling when first applied .
Just started and so far I can feel a change. Just applying in one area to start. Thanks for the gift.
Thanks for the review! Let us know how things go once you've used the creams consistently for a month, please. The creams are treatment creams and should improve the situation steadily. Best!
Wonderful products
I have been overjoyed with Terracure since I first tried it on aching knees and rotator cuff issues. I've recently had problems with the ball of my right foot. When I mentioned it, I was told to try the orange, the a dab of the blue "just because". it took a while but I am happy to say that my foot is almost 100% back to normal.
Hi Alison. Thanks so much for taking the time to write yet another great review. We are totally thrilled to hear your foot is better. That is the beauty of having 3 different creams. If one isn't doing a good enough job in a particular area you can always try another. Between all three creams you're covered!!! Stay healthy!
Hi Stacy. Thanks for the feedback! Maybe share with us what you used it on?
Instant, instant relief!!
Ok, it's me in the video on the home page but I just have to share my own expericence with Blue Balm. I hit my ankle against the corner of a sharp, plastic box which was sitting on the floor where it shouldn't have been. The pain was excruciating. I hobbled over to my container of Blue Balm, applied it and the pain dissipated immediately. This is not the first time it has helped me with things like this. A short time ago I fell and hurt my leg. I literally crawled over to my Blue Balm and used it. I was able to stand up and function on the spot. This stuff is like magic for any blows or muscle spasms. Immediate relief.
Works wonderfully on my aching calves!
I had terrible pain in my calves and I could barely walk. I tried all the TerraCure creams and found that the Blue Balm worked best on my muscles. I will continue to reorder!