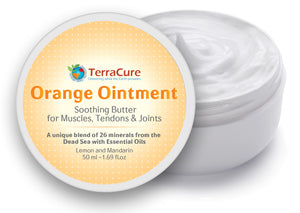 Arthritis swelling and pain gone within minutes.
Well I think you saved the day for me. I had an arthritis flare in ONE thumb joint - don't have it anywhere else but - it really hurt. Grabbed the orange stuff and it made a difference within minutes. Something people should probably have in their medicine cabinets.
Helped my shoulder pain
I have been suffering from terrible shoulder and neck pain for a long time. I received my cream on Thursday. At 8:00 pm I applied it and I took a two hour nap. I woke up a new person. No pain. Wow. God bless you, TerraCure. The pain did come back the next day and I am continuing to use the creams for relief.
Does EXACTLY what it says it does!
I don't have a chronic back problem. I get back pains when I lie in bed to nurse my baby. When I use the Orange Ointment and the Red Rub the pain just ......goes away! Good products!
Helped Reduce the pain in my back
After suffering for many years from terrible disc pain and spending loads of money on all kinds of solutions including epidurals, acupuncture and other things, I reached the point where I was literally climbing the walls from my pain. I tried Orange Ointment and within a day and a half (and maybe 3 applications) my pain had greatly subsided. I highly recommend this product to anyone suffering from a herniated disc.
Really Helps my Herniated Disc
I have been suffering from a herniated disc resulting in back pains for years. I was stuck at home for a few weeks and was dragging my leg. I tried the Red Rub together with the Orange Ointment and was able to stop taking painkillers 3 times a day and to leave my house without dragging my leg. I'm continuing to use the product as a preventative measure.